The Rat Pack & More Dinner Show - Friday, November 25, 6:00 PM
Join us for a dinner buffet and live show featuring the Rat Pack and More! Celebrate the timeless music and wacky hi jinks of Frank, Sammy, & Dean! Viva Las Vegas!
Tickets are $60 per person that includes a reserved seat, a great dinner buffet, and live show, at the Galaxy Restaurant, just minutes from Akron off of I-76 and Rt 94 in Wadsworth. Reserve your tickets today!
Based in Cleveland Ohio, The Rat Pack and more! Featuring Frank Sinatra, Dean Martin and Sammy Davis, they have been working together for 14 years. The shows travels regionally from Ohio to Michigan, to Pennsylvania, along with touring to South Carolina and Florida February, March and early April.
For more information see... www.theratpackandmore.com
Menu:
Appetizers: cheese & crackers, bruschetta
Served tossed garden salad with dressing, Rolls
BUFFET DINNER:
Seasonal fresh vegetables
Smashed redskin potatoes
Rigatoni with Alfredo & Marinara
Chicken Parmesan
Chef carved prime rib
Tuxedo cake
Doors Open 6PM
Dinner 6:30PM
Show starts at 8:00PM
Cash bar from 6:00PM to 10:30PM.
Make a night of it and take the elevator home!
Comfort Inn & Suites - 330.336.7692 or click HERE for a discount booking link
See the hotel website www.comfortinnwadsworth.com
Please contact us with any questions
Stephanie Gilbert - Banquet Manager
stephanieg@galaxyrestaurant.com
330.334.3663, ext. 210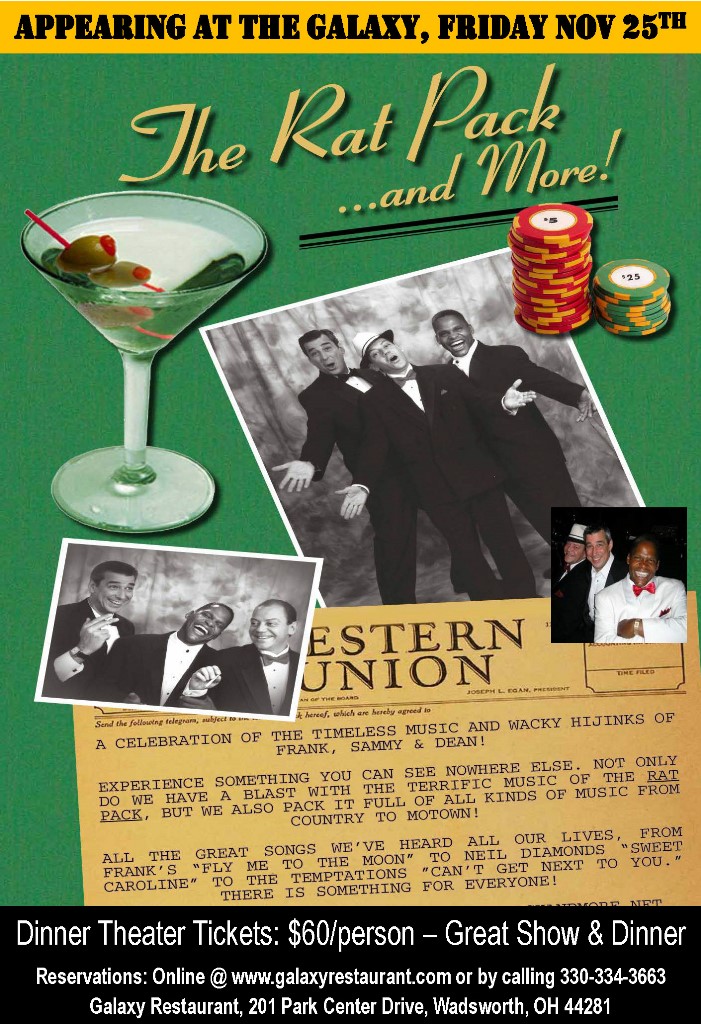 Ticket Information
To view available seats and/or purchase tickets for this event, please enter the number of tickets and press the 'Continue' button.