New Years Celebration Gala in the Ballroom, Western Nights 7PM - Saturday, December 31, 7:00 PM
The Grand Gala New Years Evening Party at the Galaxy... Every year since 1999, we've been bringing in the new year in style! This year will be even better. Join us on Saturday evening, December 31, 2022. This years theme is Western Nights...
Our chefs are busy putting together a wonderful selection of food offerings that will be sure to please. And once again, our goal is to provide selections and offerings that will be one of the best we have ever presented.
For entertainment, we featuring THE EDGE band providing music throughout the evening and through the midnight hour. The event will also include party hats and favors, champagne toast at midnight along with the Galaxy balloon drops and televised ball drop right from New York!
Tickets are $125 per person (plus tax). Ticket price includes your entry into the main party in the Galaxy Grand Ballroom where you will enjoy all the wonderful food, entertainment and drinks to usher in the New Year. Please note that this is a premier event and our chefs take great pride in the cuisine offered on New Years, the best around. For beverages, we offer full selection of premium offering of liquors, beers, and wines.Hotel Packages with the Holiday Inn Express and Comfort Inn & Suites are also available if you are interested. (See below for packages.)
RESERVATIONS: Just click below or go to Galaxyrestaurant.com
Get your tickets now online or by calling the Galaxy at 330-334-3663. Ordering online is easy, view the room layout and choose your table and purchase right online. (If you wish to combine your NYE tickets with a hotel reservation, it's easy, see below for packages)
Times: Doors will open at 7:00pm.
Food: We offer a variety of wonderful appetizer and entree buffet stations designed and created by our culinary staff, fit for the grand occasion. Food stations will be placed throughout the ballroom from 7PM until around 9:30PM...
NYE Dinner Menu: ( To be posted soon)
Bar Service: For beverages, we offer full selection of premium offering of liquors, beers, and wines including higher end selections.
ENTERTAINMENT: THE EDGE offers unparalleled music & entertainment...featuring dynamite, breath-taking lead vocals led by the classy, lovely and multi-talented Suzanne Gibson. Tight bass grooves laid down by bassist and vocalist, Bob Miller...the wailing, smooth and sexy sounds produced by sax-man Mike Molchan, toe-tappin' beats with uncanny, unmatched precision by drummer/percussionist, Jeff Kennat, and hot and intricate guitar leads played by the intensely energetic...Dan Portik. Now add the sounds of amazing brass stabs, organ, piano, and strings coming out of Rick Matis's keyboards and you have the makings of one exciting band!
HOTEL PACKAGE RESERVATIONS: Take the elevator home! Stay at the Holiday Inn Express or Comfort Inn & Suites, right next door, conveniently located on either side of the Galaxy. To reserve a hotel room, simply purchase your Galaxy NYE tickets and then call the hotel direct and supply your Galaxy Order Number to the hotel reservations and they will provide you the hotel room package pricing or use the convenient booking link by clicking below..
Holiday Inn Express & Suites: 330-334-7666 (www.hiexpress.com/wadsworthoh), 231 Park Center Dr. Wadsworth.
Holiday Inn Express King or Double room: $159
Holiday Inn Express Executive King Suite (King Suite is a larger room with living area and kitchenette): $179

Comfort Inn & Suites: 330-336-7692 (www.comfortinnwadsworth.com), 5 Park Center Dr., Wadsworth.
Comfort Inn & Suites King or Double room: $159
Comfort Inn & Suites Executive King or DQ Suite (King Suite is a larger room with living area and kitchenette): $179
Comfort Inn & Suites Whirlpool King Suite: (Whirlpool Suite is a larger room with living area, kitchenette, and whirlpool tub): $230
Comfort Inn & Suites Grand Suite complete with large whirlpool, bar, living room, & King Master Bed: $340
(Hotel prices include ALL taxes)
Booking link for Comfort Inn click HERE
RESERVATIONS:
Please make your reservations early because this event sells out! We love New Years at the Galaxy and hope that you will join us. The Galaxy is the place for celebration at New Years!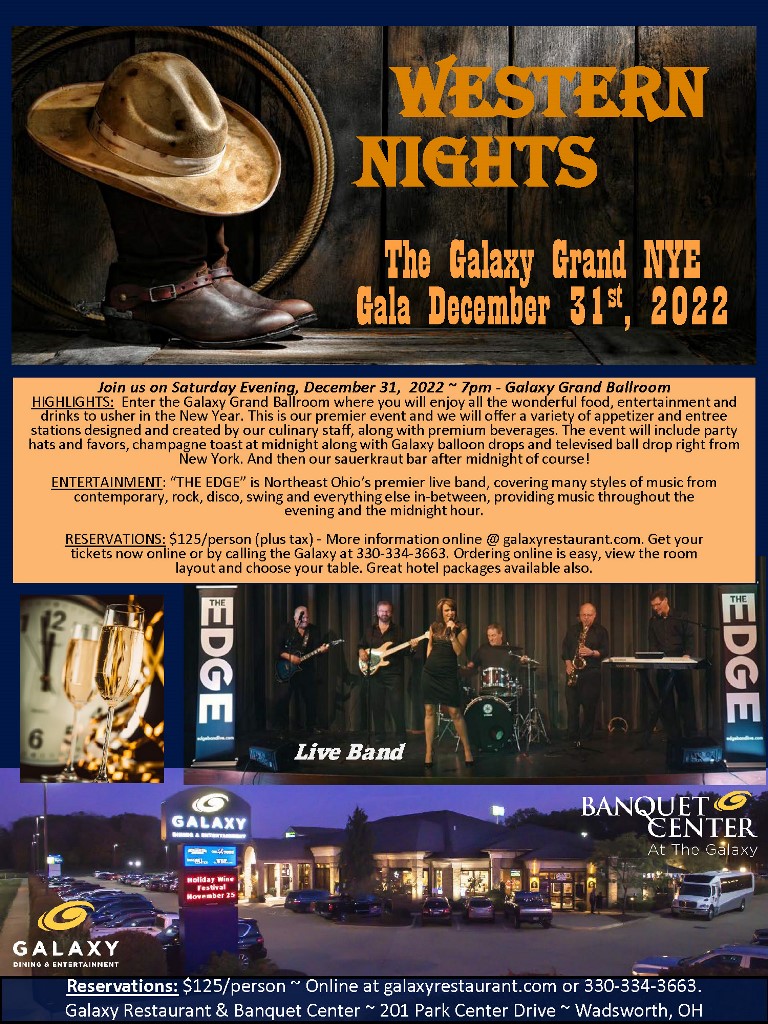 Ticket Information
To view available seats and/or purchase tickets for this event, please enter the number of tickets and press the 'Continue' button.