Grand New Years Eve Gala in the Ballroom - Thursday, December 31, 5:30 PM
The Galaxy is planning to hold a Grand Gala New Years Eve party this year. Every year since 1999 we've been bringing in the new year in style! Join us on Thursday evening, December 31, 2020. This year's theme will be a night at the Oscars.
Event Highlights:
- Entertainment - The Edge band, back from last year, providing music throughout the evening into the midnight hour.
- Food & Beverage - Multi-course dinner, this is a premier event and our chefs take great pride in the cuisine offered on New Years, the best around. For beverages, we offer a full selection of premium offering of liquors, beers, and wines.
- Souvenir 2021 champagne flute
- Designated 2021 NYE photo location
- Hotel packages are available, take the elevator home.
Safety: This year has been challenging for all of us and for events such as this we want to make sure that we plan appropriately. For safety, the following modifications will be made for this years event
- Food - We will offer a multi-course served dinner instead of a buffet, with plated and hand passed hors d'oeuvres.
- According to state guidelines, all guests must wear masks at all times when not seated at your table. This includes walking to the bars, restrooms and dance floor.
- All guests must practice social distancing while on the dance floor.
- Bars around the room - socially distanced for service
- All tables to be socially distanced
- Only one group per table, 6 ticket minimum per group up to 10 max. So you will only be seated with people that you know.
- All high touch areas to be sanitized and cleaned throughout the evening.
- Every table to be furnished with hand sanitizer plus available throughout the building.
- All staff members are required to wear masks at all times.
- All staff members are temperature checked and asked not to come to work if exhibiting any symptoms.
- Total attendance for the event will be limited to about half of last years total
(Please note, safety measure may change based on CDC and local guidelines.)
RESERVATIONS: Tickets are $119/person (+tax) which includes all food, beverage, Souvenir Champagne flute, and entertainment throughout the night. You can purchase and reserve your table online below. Please note there is a 6 seat minimum purchase up to 10 maximum per table. We are allowing only one group per table. Rest assured, we realize these are unprecedented times, you will be able to cancel your reservation at any time with full refund.
Complete Menu: To be posted shortly. Rest assured our talented chefs are busy making the final details on the offerings.
SCHEDULE:
Doors Open: 5:30PM
Arrival appetizers and beverage service: 5:30PM - 6:30PM
Bar Service 5:30PM - 10:00PM, consumption until 11:00PM
Served Dinner: 6:30PM - 8:30PM
Live music with The Edge: 8:30PM - Midnight
Celebratory toast and countdown 10:45PM - 11:00PM
Pork & Sauerkraut with whipped potatoes served at 11:00 pm
HOTEL PACKAGE RESERVATIONS: Take the elevator home! Stay at the Holiday Inn Express or Comfort Inn & Suites, right next door, conveniently located on either side of the Galaxy. To reserve a hotel room, simply purchase your Galaxy NYE tickets and then call the hotel direct and tell them you are a Galaxy NYE attendee package pricing.
Holiday Inn Express & Suites Rooms: Holiday Inn Express: 330-334-7666 (www.hiexpress.com/wadsworthoh), 231 Park Center Dr. Wadsworth.
Holiday Inn Express King or Double Queen room: $129.00
Holiday Inn Express Executive King Suite: $139.00
Holiday Inn Express Whirlpool King Suite: $149.00
Holiday Inn Express Honeymoon Whirlpool Suite: $169.00
HOLIDAY INN EXPRESS NYE BOOKING LINK

Comfort Inn & Suites Rooms: Comfort Inn & Suites: 330-336-7692 (www.comfortinnwadsworth.com), 5 Park Center Dr., Wadsworth.
Comfort Inn & Suites King or Double Queen room: $129.00
Comfort Inn & Suites Executive King or Double Queen Suite: $139.00
Comfort Inn & Suites Whirlpool King Suite: $149.00
Comfort Inn & Suites Grand Suite complete with large whirlpool, bar, living room, & King Master Bed. $169.00
COMFORT INN & SUITES NYE BOOKING LINK
(*Hotel prices include ALL taxes*)
NYE in other parts of the Galaxy:
Also, We are accepting dinner reservations in the Steakhouse and Wine Room for new years and also planning a separate celebration in the sports bar, no cover.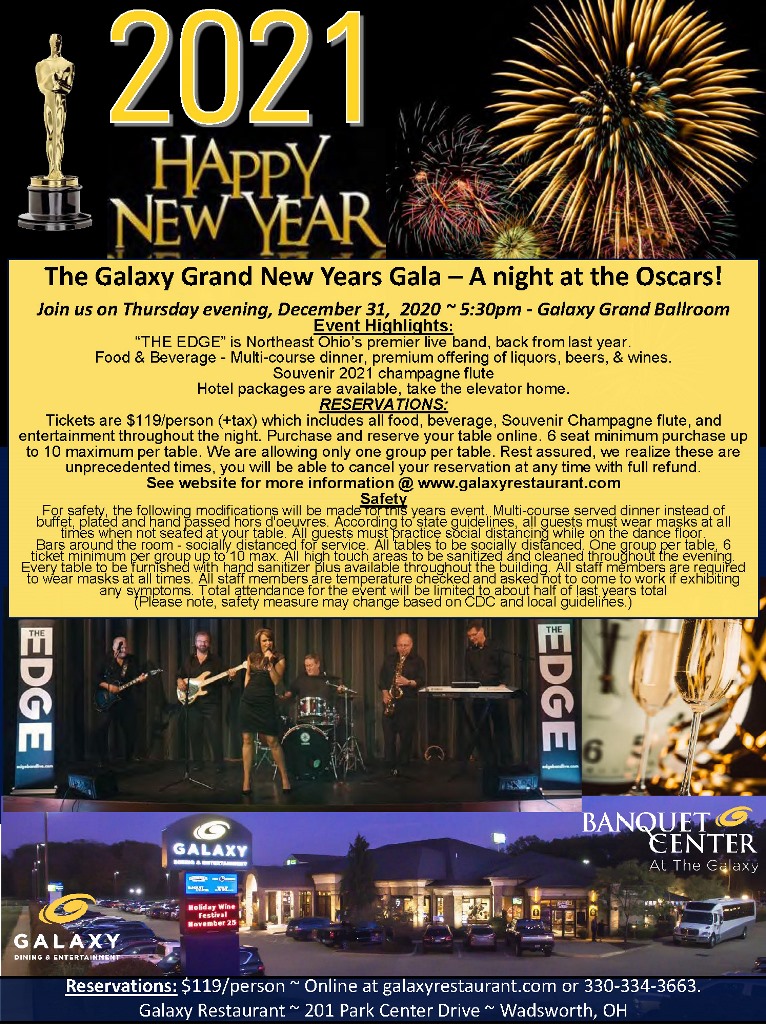 Ticket Information
To view available seats and/or purchase tickets for this event, please enter the number of tickets and press the 'Continue' button.