Rat Pack and More Dinner Show - Friday, November 27, 6:00 PM
Join us for a special dinner show with The Rat Pack and More. Based in Cleveland Ohio, The Rat Pack and more! Featuring Frank Sinatra, Dean Martin and Sammy Davis, they have been working together for 12 years, and added Sammy 7 years ago. The shows travels regionally from Ohio to Michigan, to Pennsylvania, along with touring to South Carolina and Florida February, March and early April.
Tickets are on sale now.
Ticket price includes a served dinner. You can buy tickets online and select your table.
Please note for safety we are only allowing one party per table. There is 6 ticket minimum purchase per table to maximum of 10 per table/per group. The exception is unless you are joining friends already purchased/seated at a particular table, and wish to join their group. Please list any group connection notes within the order so we can ensure one group per table. We will also have all tables socially distanced and use social distancing measures at the cash bars and with navigation around the room. Sanitizer will be supplied at every table. We ask that you wear a mask whenever not at your table seated. Thank you in advance for helping us in this process to keep our events safe.
Schedule:
6PM - Doors open, cash bars
6:30PM – Served Dinner
7:30PM – The Rat Pack and More
Dinner Menu: (To be posted soon)
As always, if you have questions please contact us, we will be happy to assist.
Shelbie Johnson - Banquet Director
shelbiej@galaxyrestaurant.com
330.334.3663, ext. 210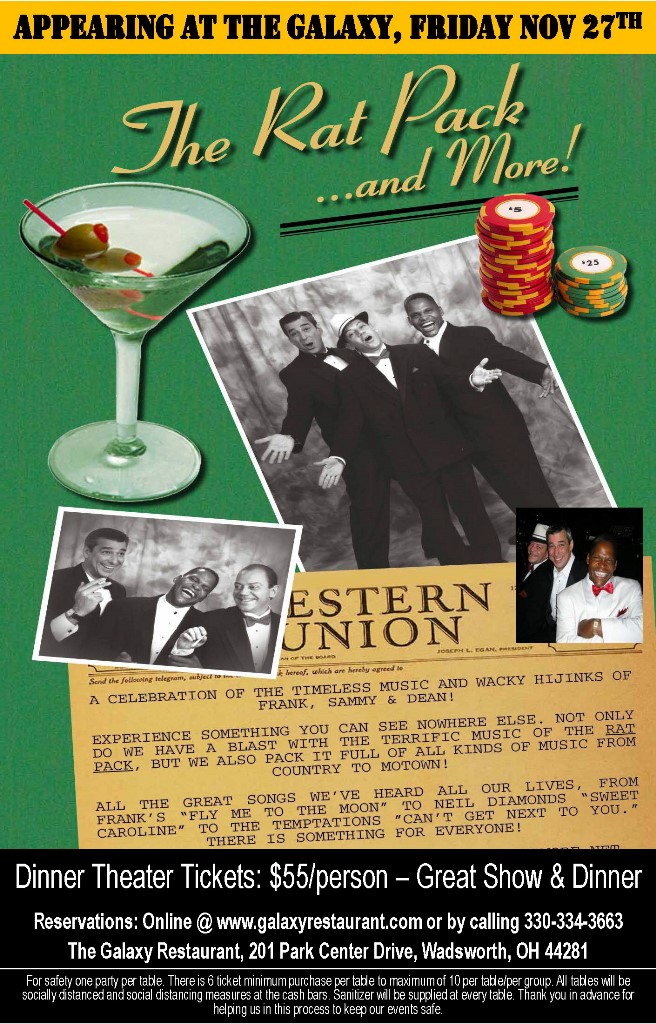 Ticket Information
To view available seats and/or purchase tickets for this event, please enter the number of tickets and press the 'Continue' button.