Murder Mystery Dinner - Dead and Deader - Friday, May 31, 6:00 PM
The Galaxy Restaurant and Mysteries by Moushey presents, "Dead and Deader", a murder mystery dinner.
Tickets are $50/person and include a fabulous buffet, cash bar and entertainment.
Friday the 31th of May, 2019
Doors open at 6:00pm-Cocktail hour, Hors d'oeuvres and circulating with the family.
Dinner at 7:00 p.m.
Show at 8:00 p.m.
Clue Hunt and Dessert and Deliberations at 9-ish
Solution will be played out when all solutions have been collected.
Tickets available online by clicking below, choose your table and seats. For more information please call us at 330-334-3663.
Hors d'oeuvres: Roasted red pepper Hummus with Pita Chips, Swedish Meatballs, Cheese Platter with assorted crackers
Buffet Dinner: Served tossed garden salad with ranch and italian dressing, Assorted rolls and butter. Buffet to include Chef carved Prime Rib with Au Jus & horseradish cream, Chicken Marsala, Rigatoni with Marinara sauce, Smashed Redskin potatoes, fresh green beans
Dessert: Served Orange dreamsicle cake
It's been almost one year since the death of actress Lacey Lafleur stopped production of the movie, "Dead and Deader." But the memory of the actress seems to haunt everyone in the film. This evening the cast is reunited to finish the film. Possibly, just possibly, there will be another dead body for us to mourn this evening.

Each table is a detecting team. Meet your fellow co-stars and plan your strategy. Offer your condolences personally to film director Rico DiMedici; co-star Lilian Durand; the leading man on and off the screen, Billy Barton; film backer, Farley Hooper; and Lacey's best friend, gossip columnist Liz Carter.

So come to The Galaxy Restaurant Grand Ballroom in your best Hollywood attire (if you wish) where you will investigate, search for clues, enjoy dinner, solve the mystery and win prizes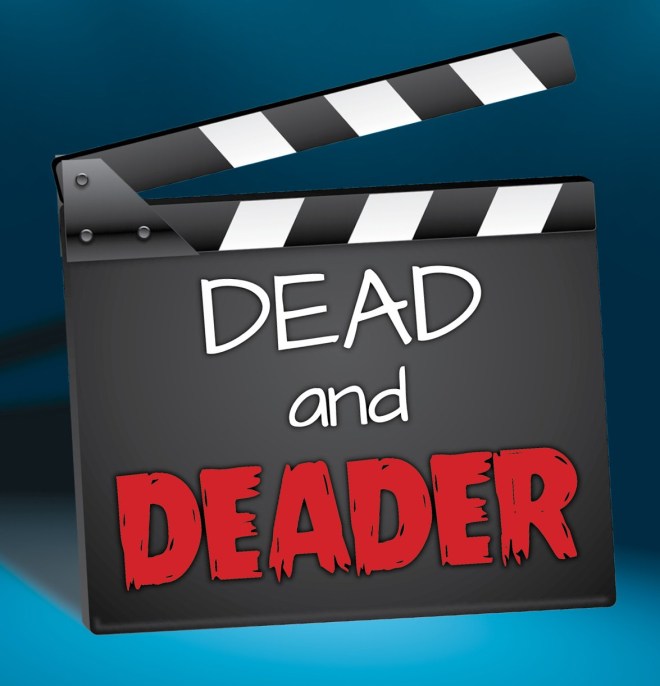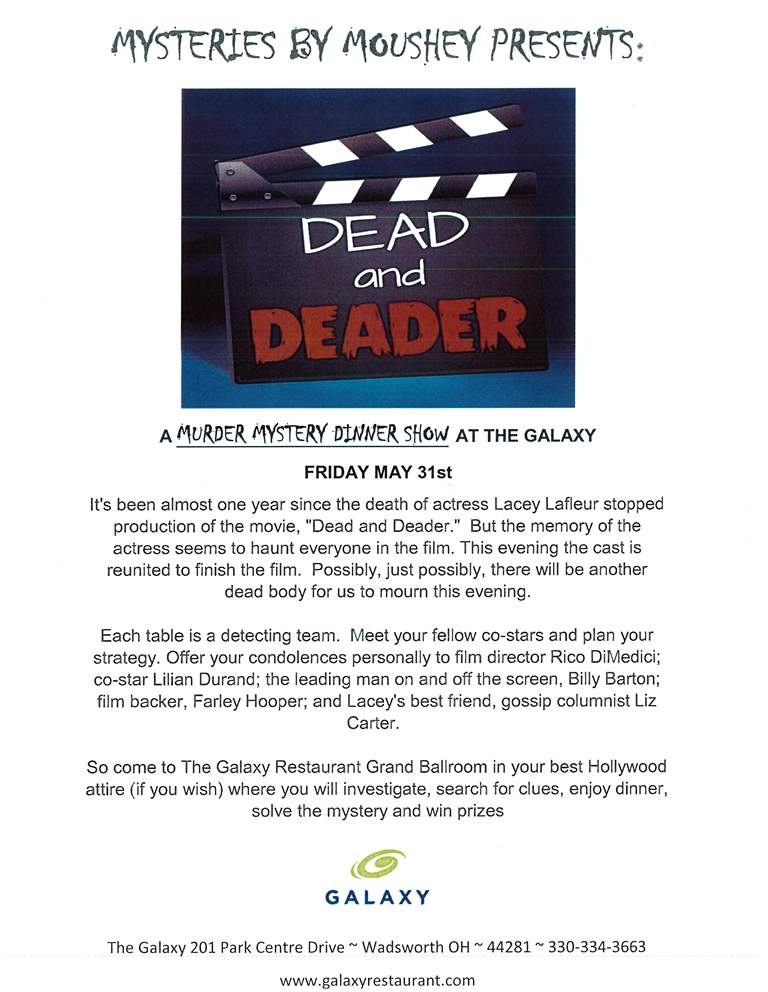 Ticket Information
To view available seats and/or purchase tickets for this event, please enter the number of tickets and press the 'Continue' button.