Murder Mystery Dinner - "The Curse of the Hopeless Diamond" - Friday, October 12, 6:00 PM
The Galaxy Restaurant and Mysteries by Moushey presents, "The Curse of the Hopeless Diamond, a murder mystery dinner.
Tickets are $50/person and include a fabulous buffet, cash bar and entertainment.
Friday the 12th of October, 2018
Reginald Potter has his hands full. For one thing, his young wife, Daphne, wants to revive her Vegas career bankrolled by Reggie's money. Unfortunately, he doesn't have money — just the famous, fabulous and very cursed Potter Diamond. You would think Reggie could count on the famous detectives he's hired to guard the jewel — and protect HIM from the curse. But they seem to be less than competent (an understatement!). Basil Benchley recounts past cases while overlooking evidence under his nose. Felicity Crump rocks and knits slipper-socks for her "boys in the slammer" — criminals she's apprehended. Kelly Boggs, the world's oldest teenage detective, is obsessed with forensics. And Harry Dinker is too busy changing into various disguises to guard the Diamond — or protect Reggie from its Curse. Will Reggie survive the evening? Will the Diamond be stolen? Will the gypsy Curse on the Hopeless Diamond claim another victim?
Doors open at 6:00pm-Cocktail hour, Hors d'oeuvres
Dinner at 7:00 p.m.
Show at 8:00 p.m.
Clue Hunt and Dessert and Deliberations at 9-ish
Solution will be played out when all solutions have been collected.
Tickets available online by clicking below, choose your table and seats. For more information please call us at 330-334-3663.
6:00- Hors d'oeuvres:
Bruchetta
Fresh Fruit
Domestic Cheese w/ assorted crackers
7:00- Dinner
Served tossed garden salad w/ ranch and italian dressing
Assorted rolls and butter
Buffet:
Chef carved Prime Rib w/Au Jus & horseradish cream
Chicken Piccata
Cavatappi pasta w/carbonara sauce
English mashed potatoes
Roasted fresh vegetables
Dessert:
New York Cheesecake w/ strawberry sauce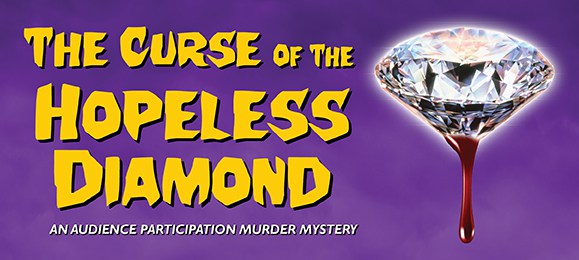 Ticket Information
To view available seats and/or purchase tickets for this event, please enter the number of tickets and press the 'Continue' button.