Galaxy Annual Rocktoberfest Craft Beer Event with Live Music with Sunset Strip - Friday, September 29, 6:00 PM
Once again it's time for our annual Oktoberfest event at the Galaxy with a focus on 2 things, craft beer and rock n roll. Friday September is the date. This festive event will include the opportunity to sample over 60 different beers, indulge in fabulous October Fest foods, and enjoy live entertainment. Cover charge is just $10/person online pre-sale or at the door.
We have a lot of great prizes given out all evening long with TK O'grady anf our friends from 97.5 WONE.
SCHEDULE:
DOORS OPEN: 6PM
BEER SAMPLING: 6PM to 10PM
LIVE MUSIC: 9PM to Midnight by Billy Morris and Sunset Strip.
FOOD SERVICE: 6PM to 10PM
CASH BARS: 6PM to Midnight (Sports bar will be open until 2:30AM)
Mark your calendars now! Cover charge is just $10/person pre-sale or at the door, and includes 2 beer sample tickets.
Billy Morris and the Sunset Strip: Billy Morris hails from from the RocknRoll capitol of the world Cleveland,Ohio. As the former lead guitar player for platinum recording artist' Warrant, Billy has played every state in the USA as well as Japan, Korea, Mexico, Australia and many other countries across the world. Billy has also toured and played lead guitar for 80's headbangers "Quiet Riot" and guitar legend Paul Gilbert of Mr. Big. ?In Warrant, summer tours with bands like Poison, Whitesnake, Ratt and many others taught Billy a high level of professionalism and excellence he brings to the stage today.
THE BEERS: This year we will focus on craft beers, the most interesting beers around the world and in our back yard. Also, we will have Breweries represented at the event.
OFFICIAL BEER LIST:
Sam Adams Octoberfest
Sam Adams Boston Lager
Angry Orchard Easy Apple
Jack O Traveler
Great? ?Lakes Nosferatu
Turntable Pilsner
Rally Drum Oktoberfest
Blue moon Pumpkin
Blue moon Mango Wheat
Rhinegeist Franz
Dirk Dunkelweizen
Devils Backbone Pupkin Hunter
Spaten Oktoberfest
Alaskan Heritage coffee
Breckenridge nitro Pumpkin spice latte stout
McKenzies Seasonal Reserve
Rivertowne Headless Wylie (Pittsburgh, PA)
Brew Kettle Oktofest (Strongsville, OH)
Brew Kettle White Rajah
Brew Kettle Kitka
Saugatuck Blueberry Maple Stout (Michigan)
Latitude 42 Party @ the Moontower (Michigan)
Millersburg Nuthouse Porter (Millersburg, OH)
Elevator Oktoberfest (Columbus, OH)
Fat head's Spooky Tooth
Fat head's goggle fogger
Fat head's trail head
Hoppin frog turbo shandy
Hoppin frog double pumpkin
Jackie O's Mystic Mama
Jackie O's Berliner Weisse
Jackie O's dark Apparition (stout)
Kentucky pumpkin barrel ale
Weihstephaner festbier
Dogfish punkin
Shipyard Pumpkinhead
Two brothers atom smasher
Fat head's Bumbleberry
Hoppin frog infusion A
Shiner Oktoberfest
Leiniekugel Oktoberfest
Leinenkugel Harvest Patch Pumpkin 🎃
Shiner Cheer
Horny Goat Salted Caramel
Horny Goat Peanut Butter Chocolate
Firemans IPA
LEINIE POMEGRANATE SHANDY
LOMBARDI ORANGE 🍊 LEMON
Royal Docks 67 Alaska German Kolsch
Odd Side Trendilicious IPA
Lager Heads Dunkleweizen
Thirsty Dog Barktoberfest , Oktoberfest Marzan
Thirsty Dog Rockweiler, Lager
Rogue Cold Brew Coffee IPA
Anderson Valley Gin and Tonic Gose (sour)
Brooklyn Pumpkin Ale
Victory Sour Monkey (Sour Version of legendary Belgian triple)
Blake's Hard Cider Co. Flannel Mouth Cider
Odd Side Mosaic Dirty Dank Juice IPA
Ayinger Brauweiss German Weiss
Royal Docks Pendragon Witte Beer
Royal Docks Tanglefoot IPA
Deschutes Fresh Squeezed IPA
Lager Heads Oktoberfest
Uinta Fest Helles Lager
Deschutes Black Butte Porter
These local breweries will be represented: Great Lakes, Brew Kettle, Leinenkugels, Sam Adams, Fat Heads, Lagerheads, Kentucky Bourbon Barrel, Goose Island, Rhinegeist, Thirsty Dog, Hoppin Frog, Shiner Boch.
TAKE THE ELEVATOR HOME!!
HOLIDAY INN EXPRESS: And don't forget we will be offering special rates at the Holiday Inn Express and Comfort Inn this night. Call the hotels direct and ask for the "Octoberfest Rate".
Also, we offer a "Take Home" shuttle service to surrounding towns and communities. Cost is $5/person within Wadsworth and $10 or $15/person depending on area. The shuttle service will be available from 10PM to 2AM. You can simply signup in the sports bar the night of the event.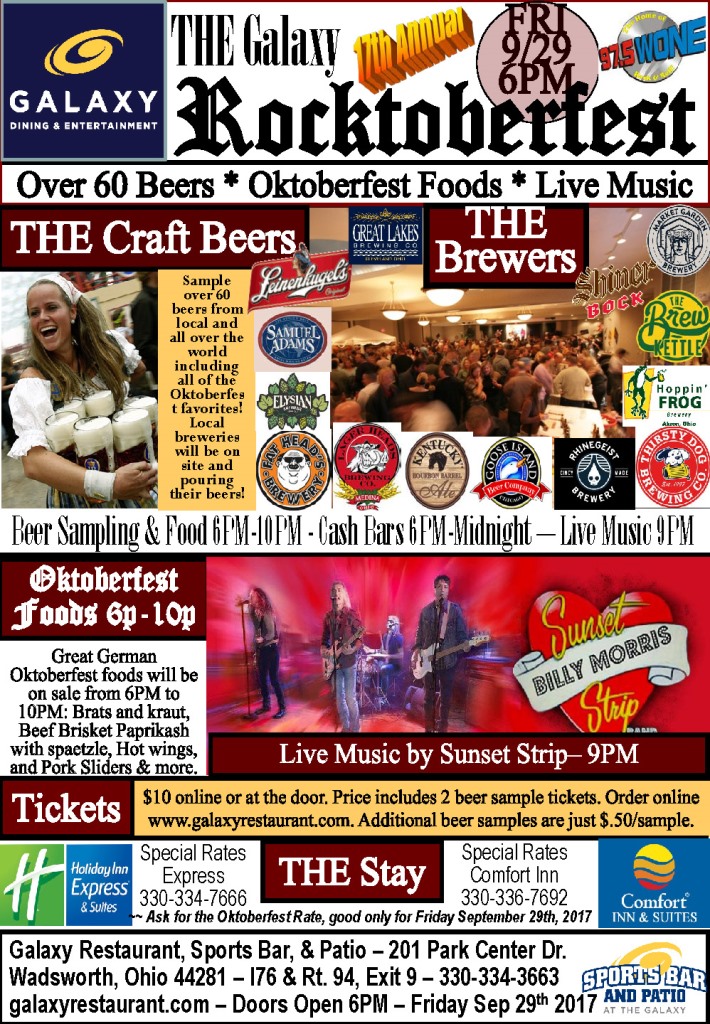 Ticket Information
To view available seats and/or purchase tickets for this event, please enter the number of tickets and press the 'Continue' button.