Murder Mystery Dinner - Honeymoon from Hell - Friday, September 08, 6:00 PM
The Galaxy Restaurant and Mysteries by Moushey presents, "Honeymoon from Hell", a murder mystery dinner. Anything that CAN go wrong has gone wrong aboard the S.S. Amore, a not-so-luxurious cruise ship. Captain De La Robia is trying to calm the passengers, with the assistance of cruise director, Gina. It's Amore's Talent Night and Gina recruits audience members to join in the competition. Just when it looks like the cruise won't be a total disaster, someone is murdered. Suspects include the honeymooners, the crew, and Chef Fredo – whose temperament is matched by the large knife he wields.
Guests (passengers) are encouraged to enter the Talent Show. There will be a prize for the best act.
Tickets are $50/person and include a fabulous buffet, cash bar and entertainment.
Schedule:
6PM - Doors Open
6PM-7PM - Hors D'Oeuvres
7PM - Dinner Buffet
9:45PM - Dessert
Menu:
Hors D'oeuvres: Fresh fruit, cheeses, and vegetable display.
Dinner Buffet: Roasted fresh vegetables, smashed redskin potatoes, cavatappi with carbonara, chicken marsala, chef carved prime rib.
Desserts: Triple layer chocolate cake
Program and clue hunts will be ongoing throughout the evening.
Tickets available online by clicking below, choose your table and seats. For more information please call us at 330-334-3663.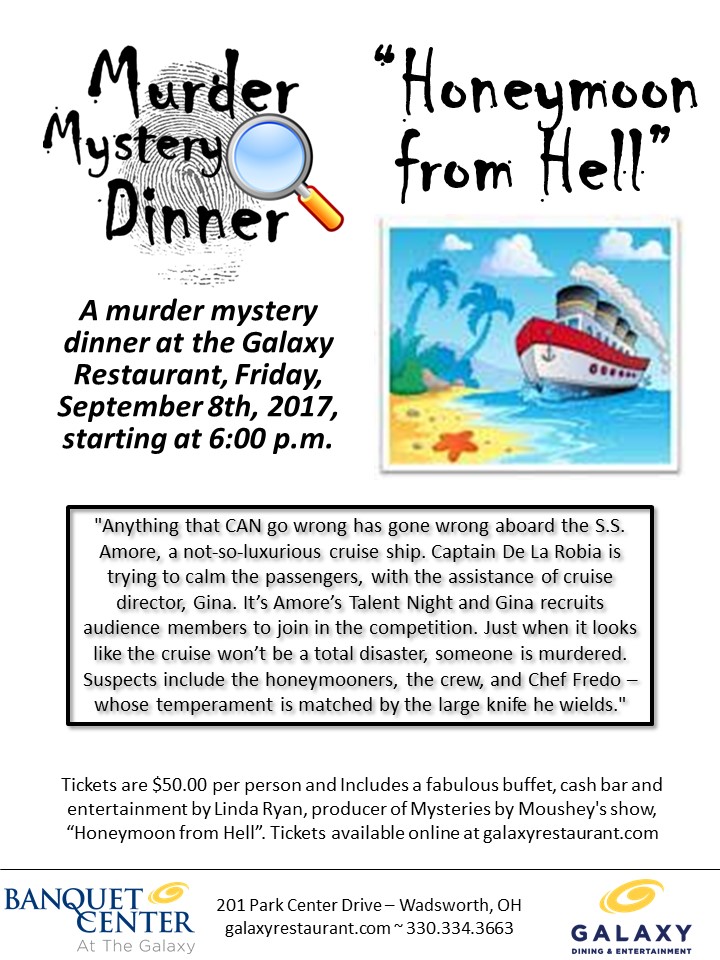 Ticket Information
To view available seats and/or purchase tickets for this event, please enter the number of tickets and press the 'Continue' button.