The NEO Jazz Orchestra Dinner Theatre - Friday, February 15, 6:00 PM
NEO Jazz Orchestra Dinner Theatre at the Galaxy Ballroom
The NEO Jazz Orchestra was started over 20 years ago by a few jazz musicians at the Chapel in Akron Ohio. Originally the musicians of this group, then known as the Chapel Big Band, were members or attenders of the church. Our group today draws musicians from many areas in North East Ohio, thus the name change to the NEO Jazz Orchestra. We play all styles of Jazz from the swing time greats of the 40's & 50's to more recent composers including Count Basie, Buddy Rich and Sammy Nesitco. Our group has performed for festivals, weddings, churches, community events, assisted living homes, swing dances and non-profit fundraisers. Enjoy the classic exciting sound of an 19 piece big band directed by the consummate musician Frank Margida.
Tickets are $50 per person which includes the buffet dinner. Order online by clicking below for a reserved seat.
6PM - HORS D'OEUVRES
7PM - Buffet Dinner
8PM - Show
(Cash bars will be offered throughout the night)
MENU:
HORS D'OEUVRES: Fresh fruit platter, Spinach & Artichoke dip with pita and chips
BUFFET:
Tossed garden salad w/ House & Balsamic Vinaigrette dressings, Assorted rolls & Butter, Roasted fresh vegetables, Galaxy loaded potatoes, Cavatappi pasta with Marinara sauce, Chicken Picatta, Chef Carved Prime Rib with Au Jus & horseradish cream.
Dessert: Cheesecake with Raspberry sauce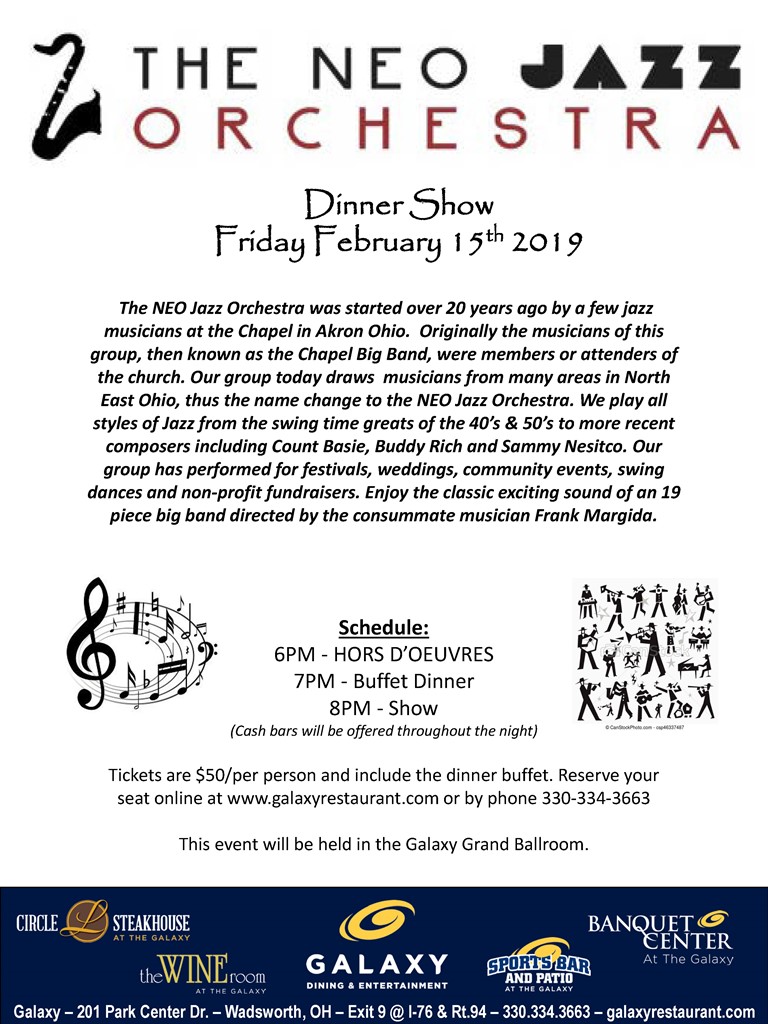 Ticket Information
To view available seats and/or purchase tickets for this event, please enter the number of tickets and press the 'Continue' button.