Piedmont Italian Wine Dinner 7PM - Thursday, March 22, 7:00 PM
Presenting a Piedmont Italian wine dinner, Thursday, March 22nd in the cellar room. We will offer a paired 7 course dinner with quality wines from the Piedmont region of Italy. Led by our resident wine director, Anthony Quinn, who will be presenting a selection of wines along with cuisine from chefs Steve Levers and Brian Jones.
Arrival
Hors D'oeuvres: Asiago Gnocchi with pesto
Paired with a Spumante Brut
Course 2
Burratta salad with Heirloom tomatoes, mixed greens and balsamic dressing
Paired with Gavi "Grifone Delle Roveri"
Course 3
Antipasto with Chevre
Paired with Roero Riserva Porello
Course 4
Pan-seared Halibut with Carema Riserva infused compound butter
Paired with Carema Riserva
Course 5
Duck Breast shingled with Cherry Compote
Paired with Giacosa Barbaresco Montifico
Course 6
Limo Ribeye with a wild mushroom demi-glaze infused with truffle oil
Paired with Fenocchio Barolo Bussia
Dessert Course
Pannacotta paired with Moscato D'Asti "Alice Bel Colle"
$85 per person, 7PM
Reservations online at galaxyrestaurant.com or by calling 330.334.3663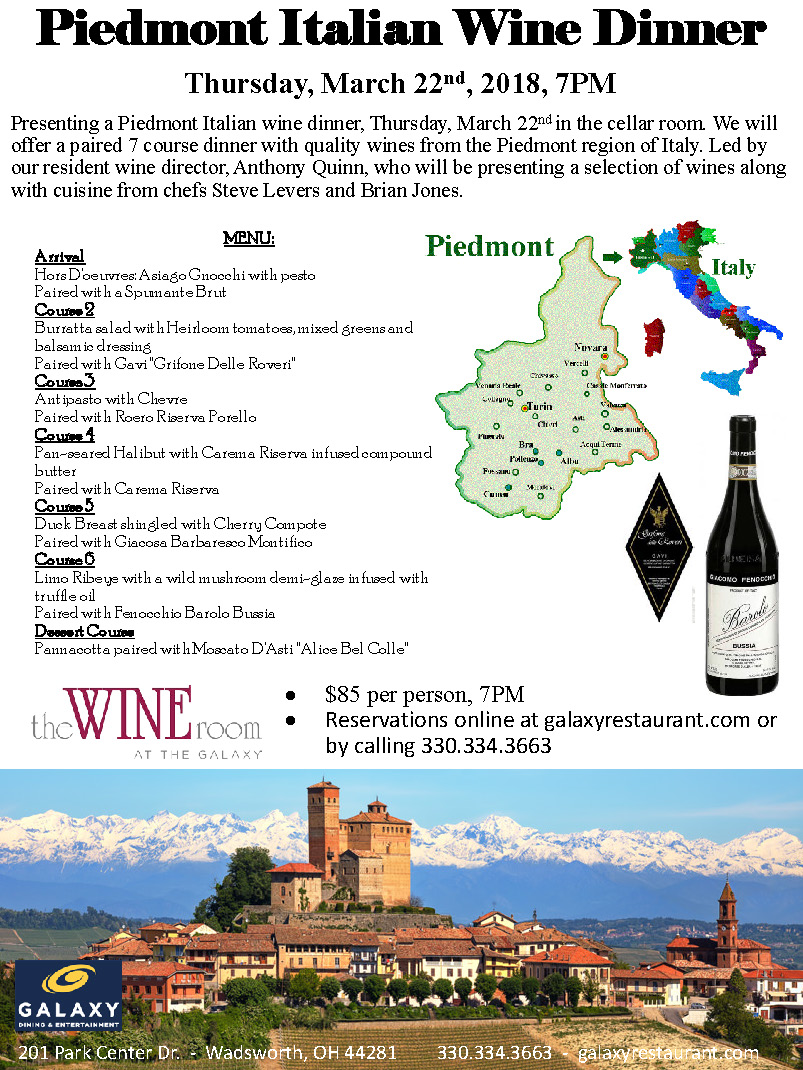 Ticket Information
To view available seats and/or purchase tickets for this event, please enter the number of tickets and press the 'Continue' button.